Potatoes are one of July's Focus Foods, so what better way to use the seasonal bounty of potatoes than in a light, simple, and delicious German Potato Salad? Full of fresh, zingy flavours, this potato salad isn't too heavy. It is dressed with a simple oil and vinegar dressing rather than a creamy mayonnaise based dressing. It is full of fresh herbs, in particular dill. You are going to love this German Potato Salad and it will quickly become a new favourite on frequent rotation in your home!
Potatoes, when consuming the whole food (skin and all) are a great source of potassium and vitamin C. Many people fear potatoes because of their carbohydrate content, but when consumed in moderation potatoes are a wonderful food. I love eating simple boiled potatoes or potato salad in the Summer when potatoes are fresh from the farm and are in season!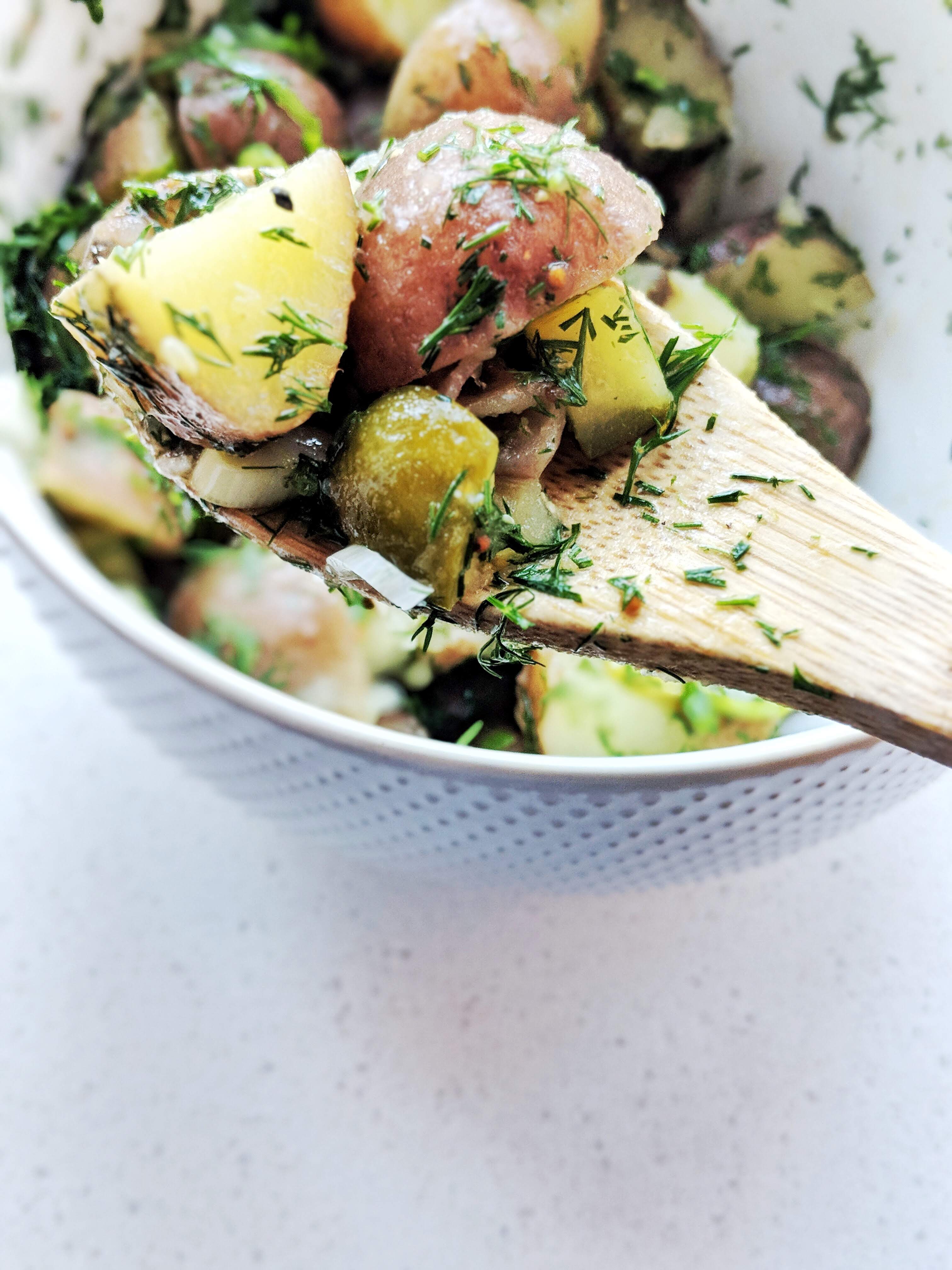 Why German Potato Salad?
Topher, my partner in crime and main recipe tester, is half German. He once made this potato salad, which he likes to call Kartoffelsalat which is simply "potato salad" in German and the flavours were so unique and delicious. I love the tang and zing from the tart and garlic-y dill pickles. Plus the addition of pickle juice to the dressing takes it up several notches. I also find this potato salad is way simpler and less time consuming than a creamy, classic North American potato salad.
While I'm not at all German, I love all the flavours of German cuisine. I also am a huge fan of trying different foods and flavours out, so I really hope you try this Kartoffelsalat recipe for yourself. Let me know what you think, I'm crossing my fingers that I did this German classic justice!
Ingredients
3 cups baby potatoes, red or yellow skin
1 cup dill pickles
1 cup fresh dill
1 green onion, sliced finely
2 tablespoons pickle juice
1 tablespoon apple cider vinegar
1 teaspoon dijon mustard
1/4 cup + 1 tablespoon olive oil
Salt and pepper, to taste
Instructions
Wash and quarter your potatoes. They should be bite sized, they will cook faster this way too. Add potatoes to a pot and cover will water. Put a lid on the pot and bring to a boil over medium high heat. Reduce and let simmer 15-20 minutes or until fork tender.
While your potatoes are cooking, chop your pickles. I quarter them lengthwise then dice them. You want the pickle pieces to be fairly small so that you can fit a potato piece and pickle on the same forkful. Then, finely chop your dill and green onion.
To make the dressing, add pickle juice, vinegar, oil, and dijon mustard to a medium sized bowl. Whisk to emulsify.
When your potatoes are cooked, strain and rinse with cold water. This will stop the cooking process and help them cool down faster.
Add potatoes to your bowl with the dressing. Add in pickles, green onion, and dill. Season with salt and pepper. Stir to combine.
https://fuelgoodness.com/german-potato-salad/