Starting this month, we are launching a new addition to Fuel Goodness. Focus Foods are going to highlight a handful of foods that are in season or foods that you'd typically walk away from in the grocery store. We're going to show you some amazing ways to use seasonal and different types of produce. There is a whole Pinterest board dedicated to each month, which highlights healthy and delicious ways to use these superstar ingredients.
Introducing July's Focus Foods:
Strawberries
• are a bright red fruit that is grown locally (in Ontario) through the middle of June until the middle of July. Strawberries have tons of amazing benefits for the whole body.
• Strawberries are a skin superfood because they contain salicylic acid, alpha hydroxy acid (AHA), and ellagic acid, which reduce hyperpigmentation, prevent acne, and remove dead skin cells.
• Strawberries also contain vitamin C which boosts collagen production, tones the skin, and has an anti-aging effect. Studies have also shown that strawberries are abundant in anthocyanins and protects against ultraviolet radiation. This makes them perfect for protecting you against the sun from the inside.
• Strawberries are rich in Vitamin C, folate, anthocyanins, quercetin, and kaempferol which are just a few of the many flavonoids that act as excellent antioxidants.
Try strawberries in: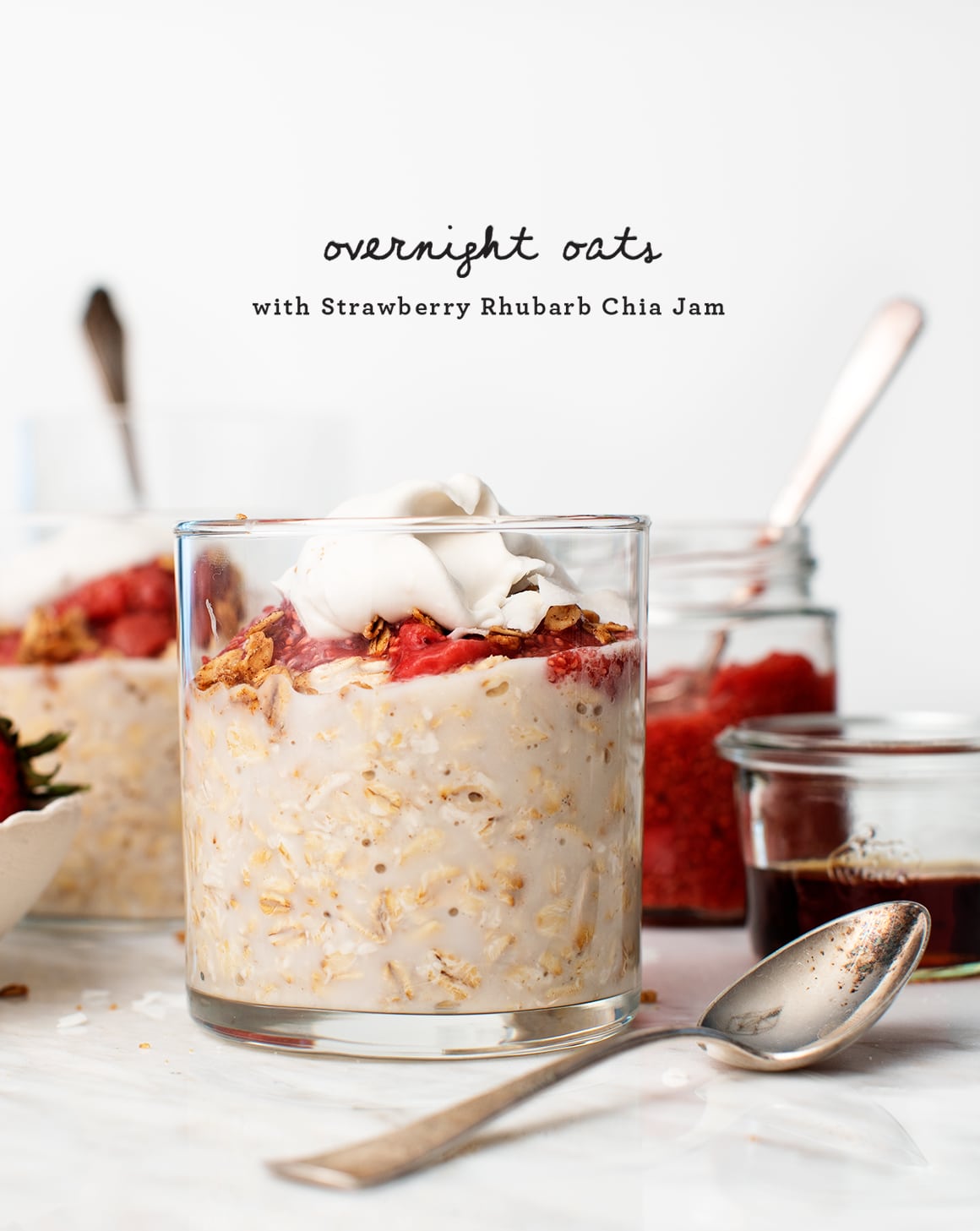 Why not try these delicious Strawberry Rhubarb Overnight Oats from Love and Lemons! 
Strawberry Shortcake Recipe GOES HERE
Arugula
• is in season from June until September. The earlier arugula is picked the more mild it is. Arugula is a wonderful green, because it's so bitter. The bitterness of arugula means that it cuts the richness in foods. Arugula pairs perfectly with fattier and richer cuts of meat like pork and steak. It's wonderful paired with salmon and goes very will in pasta dishes and topping pizzas.
• Arugula is rich in vitamin K which is an essential blood builder. It's also rich in nutrients like Folate and Vitamin A, both of which are essential fertility nutrients.
• Arugula is a beneficial food for the liver because of it's bitter flavour. Having an arugula salad before the main part of your meal is a wonderful way to start your digestive system and get the digestive juices flowing.
• Arugula is a source of Isothiocyanates which are compounds that have been shown to neutralize free radicals and dangerous carcinogens that can lead to DNA damage and cell mutation. They also inhibit cell proliferation and stop cancerous tumour growth.
Try arugula in: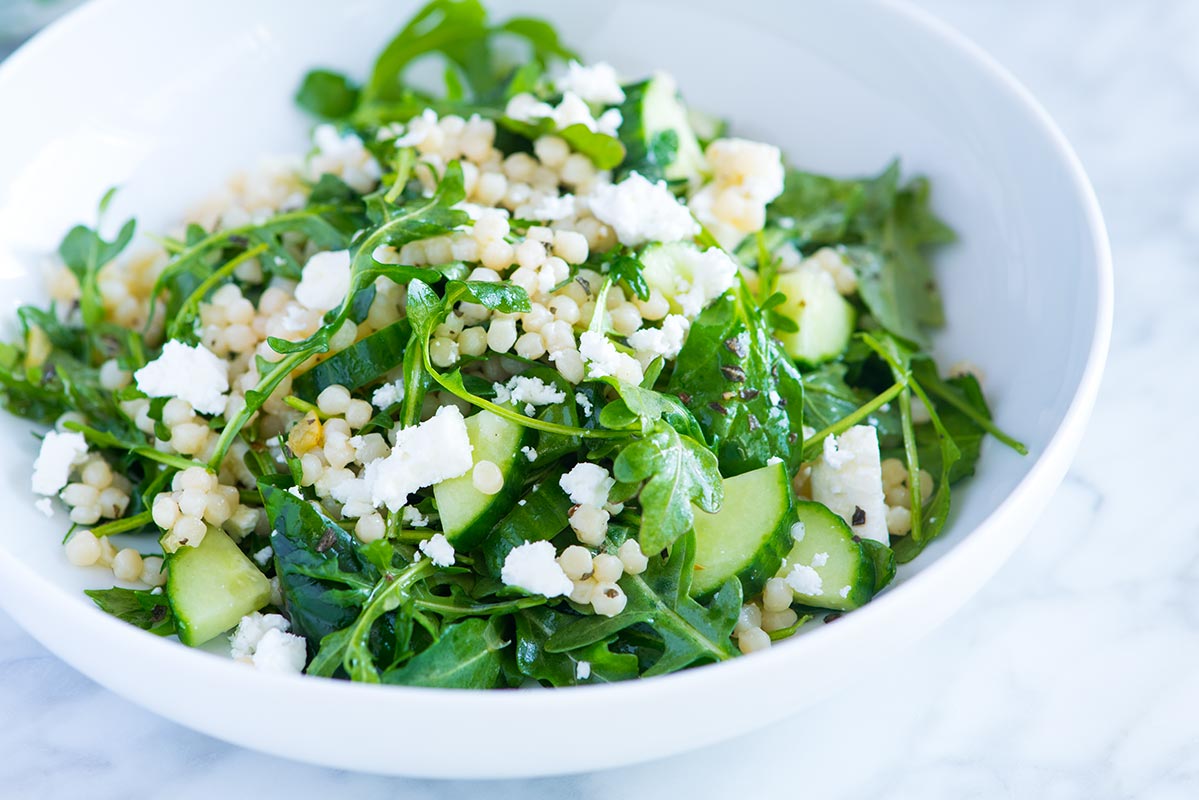 Try arugula in this delicious Arugula Couscous Salad from Inspired Taste. You could swap the couscous out for quinoa to keep it gluten free or kamut orzo to increase the nutrients!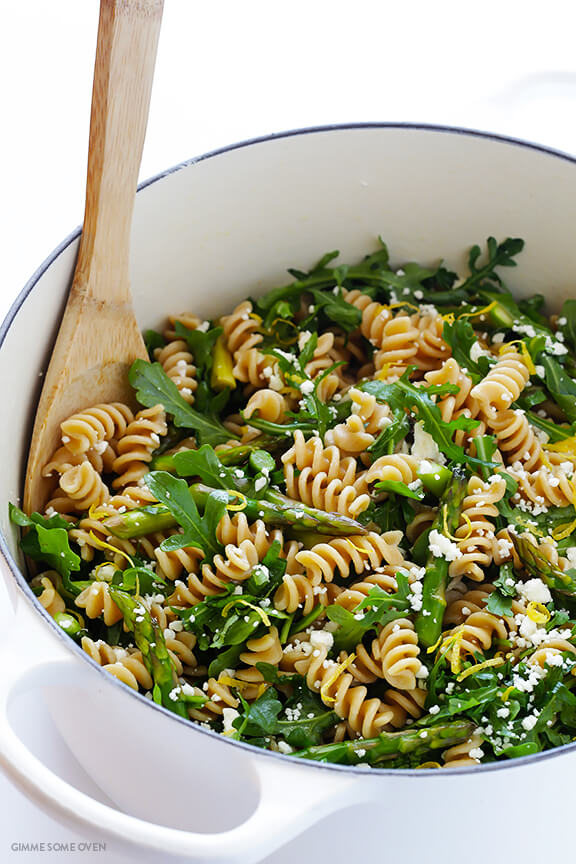 Why not add some incredible veggies like arugula and asparagus to your next pasta dish? You have got to love a great one pot meal. This Arugula Asparagus Pasta dish is courtesy of Gimme Some Oven. To increase the nutrition on this dish swap whole wheat pasta for chickpea or lentil pasta for more protein or top it with some roasted or barbecued chicken.
Tomatoes
• are in season from July to September, depending on the variety. Tomatoes are so versatile and they are wonderful jarred so that you can have fresh tomatoes all Winter long.
• Tomatoes are rich in the compound lycopene which is tied to increased immunity and cancer prevention. Tomatoes are also rich in antioxidants, especially vitamin A and C in addition to being rich in potassium and phosphorus.
Try enjoying tomatoes in: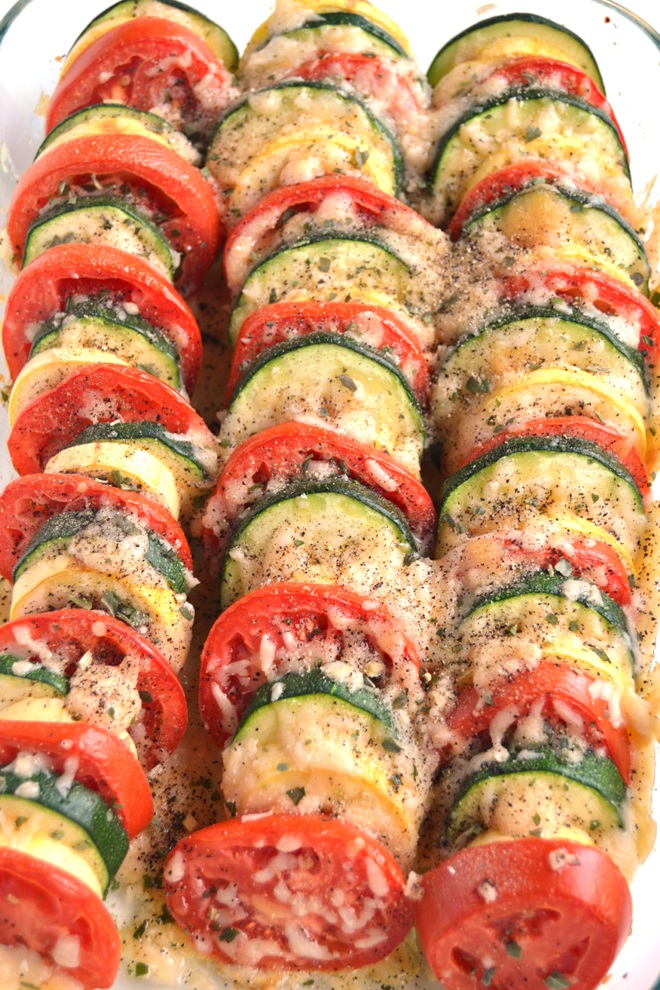 This recipe showcases two beautiful seasonal veggies, tomatoes and zucchini. This Tomato and Zucchini Bake is from The Nutritionist Reviews.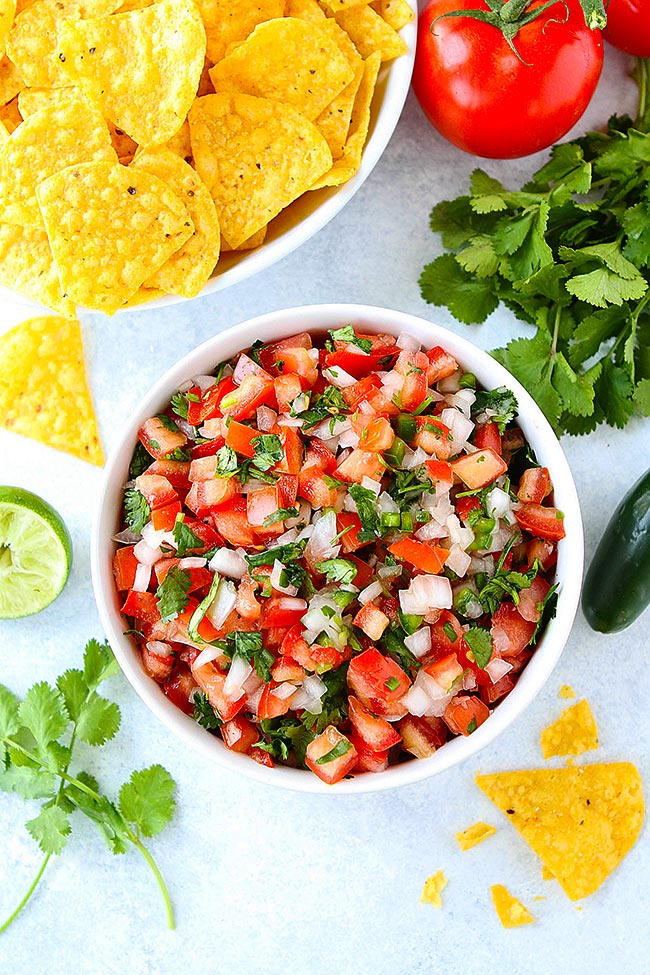 Nothing beats fresh tomato salsa, like Pico de Gallo, guacamole and chips along side a glass of sangria or even a margarita! This would be the PERFECT Friday night, sitting outside while enjoying all the Summer feels. This Pico de Gallo recipe is from Two Peas and Their Pod and I cannot wait to make it and dig in!
Peas
• are in season from July to late August. They are a wonderful food, they are a Low FODMAP food, which makes them great for people who suffer from IBS or digestive distress. They are so versatile, from eating the raw right from the shell to steaming them, and even using them in sauces and different cooked dishes. When peas are not in season, frozen peas are a great substitute, they are still high in nutrients and a great fibre source.
• Peas are high in vitamin K, B vitamins, zinc, protein, iron, manganese, and other nutrients, making peas a great veggie to include more of in your diet.
• Peas are a low sugar, high fibre veggie, making them great for balancing blood sugar and keeping you full for longer.
Try peas in: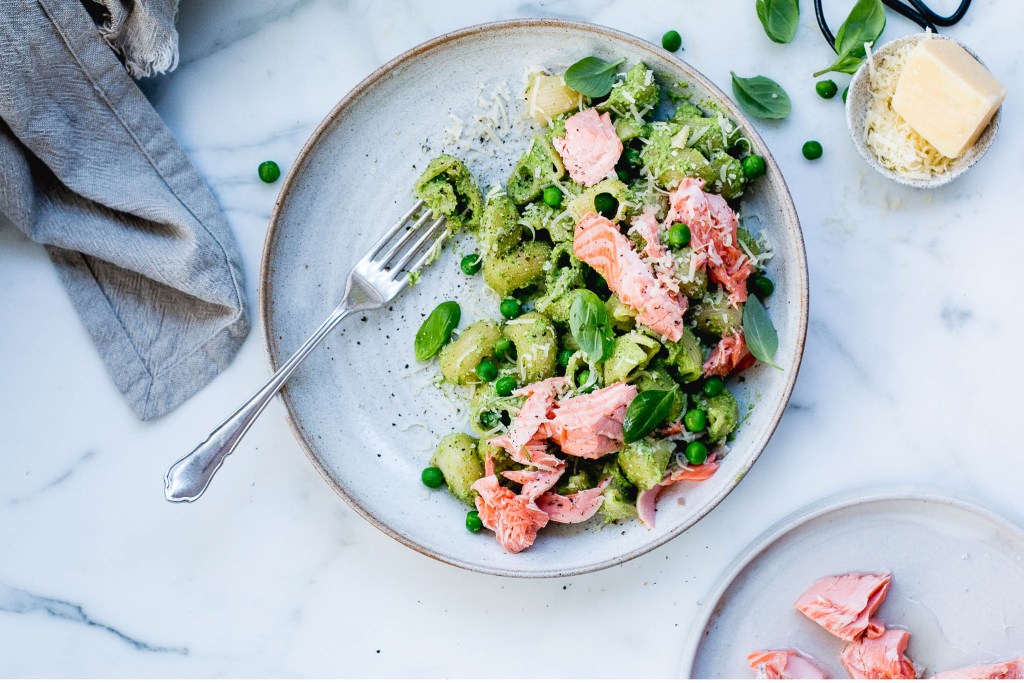 This dish looks so divine and has my fave foods in it too! Salmon and peas are **the** perfect combination. To increase the protein and fibre swap regular pasta out for chickpea, lentil, or another gluten free legume based pasta alternative. This recipe for Pea, Mint, and Poached Salmon Pasta is from The Brick Kitchen.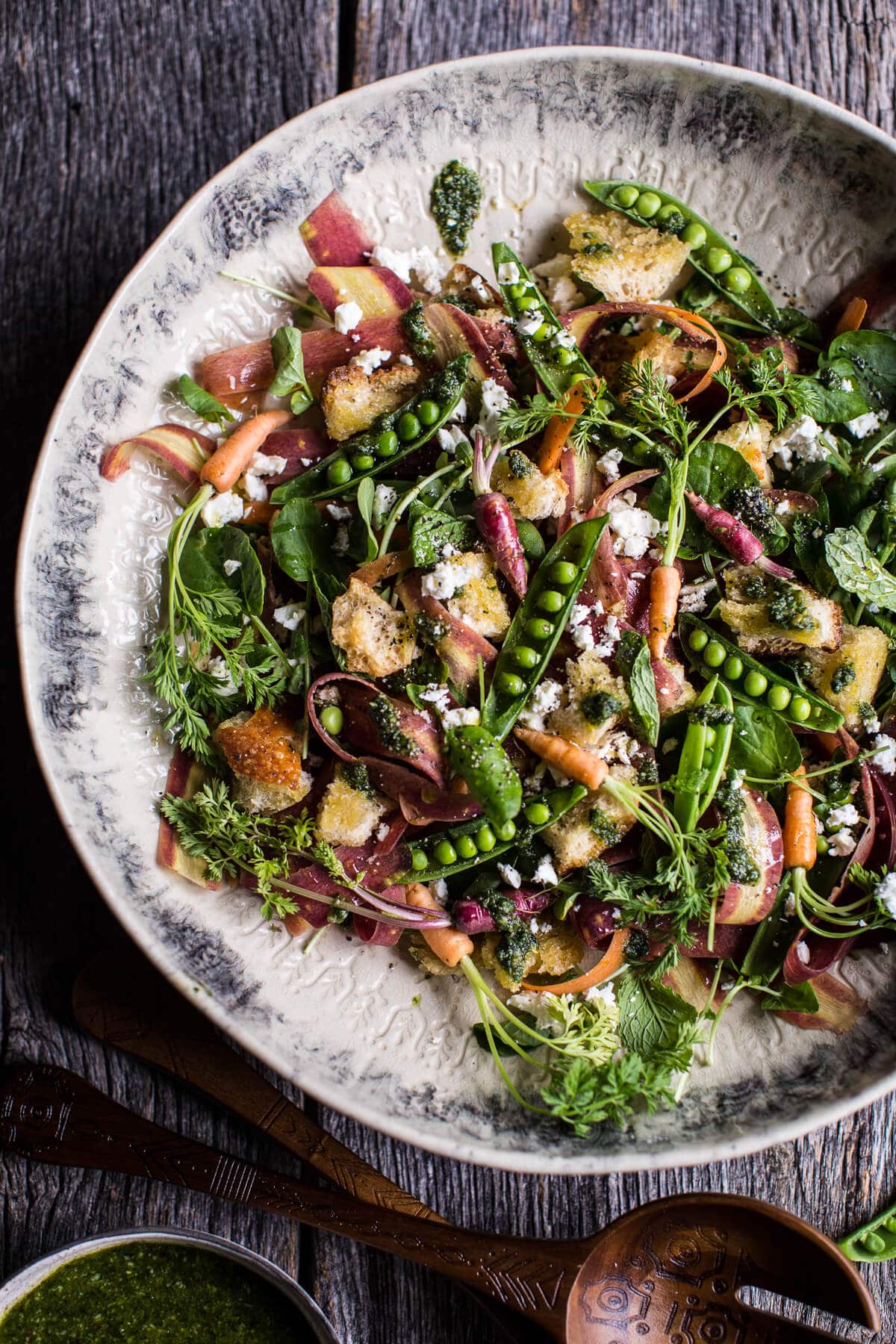 This dish looks absolutely incredible. I love the idea of combining beautiful young carrots and their tops with fresh and bright flavoured peas! Later in the season, you could add in some fresh nectarines or peaches and it would be absolutely incredible! This recipe from Spring Pea and Carrot Salad with Carrot Top Pesto is from Half Baked Harvest, and I cannot wait to make it!
Potatoes
• are in season from July through to Autumn, the varieties you'll find will vary depending on when you're buying potatoes. Although potatoes get a bad rep for not being the most nutritious vegetable out there and with it's sweet potato counterpart, everyone is always comparing and replacing the sweet baby redskin potato with it's sweeter, slightly more nutritious counterpart. Unfortunately, comparison is the thief of joy, especially when it comes to potatoes. I love potatoes, especially in the summer. Give me a couple boiled baby taters alongside some protein and lots of other veggies and I'm a happy camper. Balance and moderation are key. Am I telling you to have a handful of potatoes on a daily basis? No. I'm telling you to eat the foods you enjoy because food is meant to be enjoyed.
• Potatoes are a good source of vitamin C, B6, manganese, phosphorus, niacin, and pantothenic acid. They contain fibre, especially in the skin, so ensure you are eating the whole food and not just the inside of the potato!
Try potatoes in: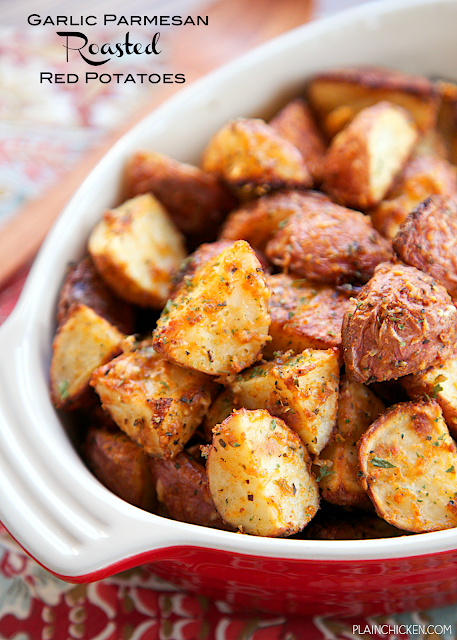 These red potatoes are super coated with delicious spices and herbs. Have these alongside a bunless burger or barbecued chicken with a big helping of arugula salad for a well-balanced, delicious meal! These Garlic Roasted Red Potatoes are from Plain Chicken. 
---
Share with me how you are using July's Focus Foods. Comment below, what foods are you loving right now?
---
Tag me on social media using @fuelgoodness and #fuelgoodness so I can see all the goodness that you're whipping up in the kitchen!