Peach Crumble Muffins are literally the best combo of muffin and peach crumble that ever existed. Are peaches more delicious this year than ever before? I think so. Topher and I were up at my cottage last week and I had a craving for muffins. We had a box of of perfectly ripe peaches sitting on the counter waiting to be eaten or become something delicious so, I made up this recipe. It's has a crumble topping which makes me think of a good old fashioned Peach Crisp, you can find my recipe for Peach Crumble over here.
These muffins will not last long on your counter. They are gluten free and refined sugar free. They are also delicious when warmed slightly with a bit of Maple Ghee or some raspberry or blueberry jam! Oh man, they are too good. As soon as I'm done sharing this recipe with you, I'll be back in the kitchen baking up a fresh batch.
Peaches are not only absolutely delicious but they pack a pretty great nutritional punch too. These sweet and juicy babes are full of antioxidants like vitamin C and carotenoids, which are a plant-based precursor to activated Vitamin A. Yellow peaches, which are what's in season in Ontario right now are even better for you than white peaches.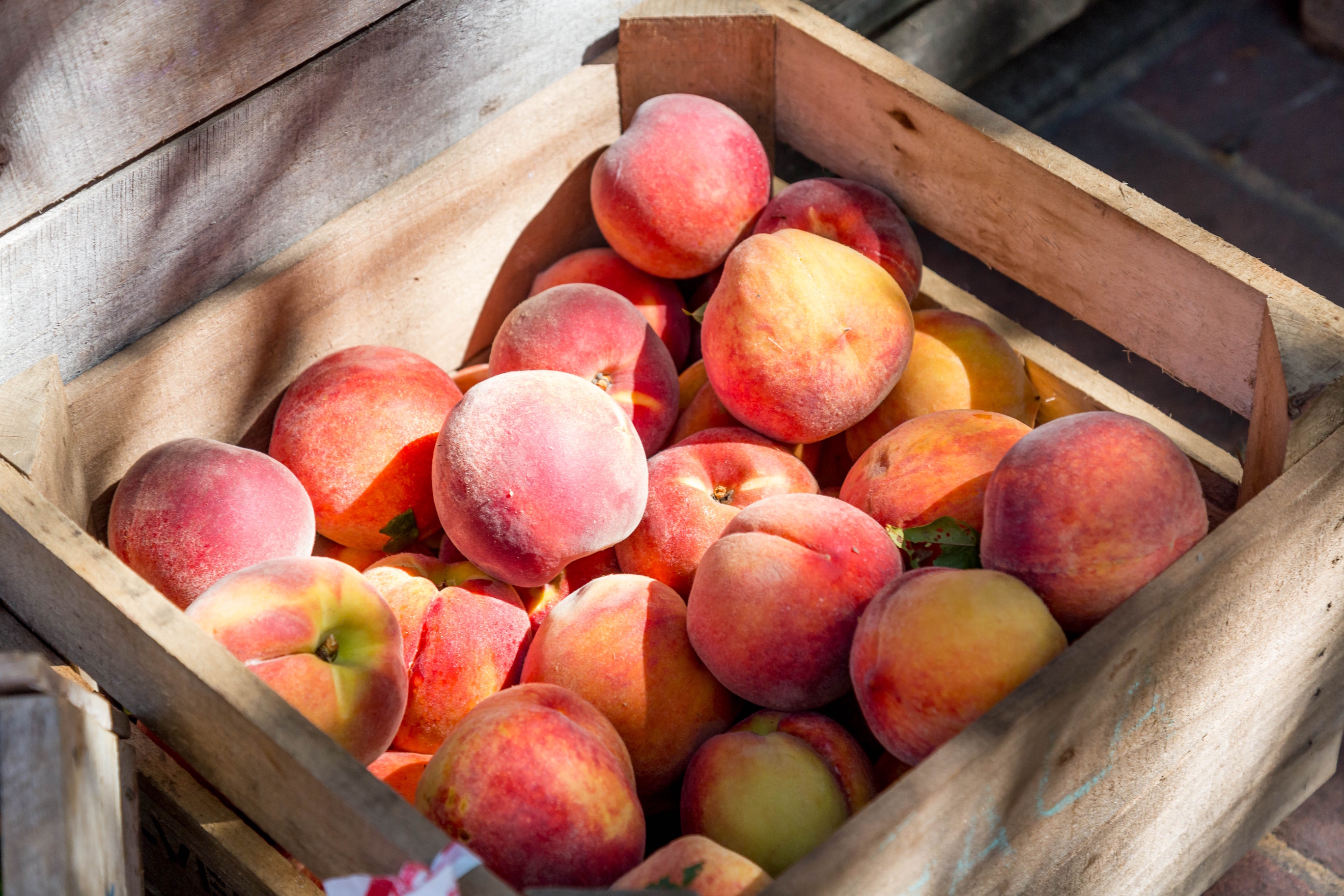 You can absolutely swap other fruit into these muffins, apples would work well as we head into Autumn. Strawberry and rhubarb is also an amazing combination that would be spectacular in place of peaches in this muffin recipe. Let me know if you experiment with different fruits in this recipe and how it goes! If you bake up a batch of these muffins, make sure you share with me on Instagram! I love seeing your creations!
Ingredients
Muffins

1 cup light buckwheat flour
1/2 cup almond flour
1/2 cup all purpose gluten free flour (I use Bob Red Mill's One to One Blend)
3 teaspoons baking powder
1/2 teaspoon sea salt
1/2 cup coconut sugar
1 egg
1/3 cup olive oil
1 cup almond milk (or any non-dairy milk)
2 cups peaches (peeled and chopped)
Crumble Topping

1 cup rolled oats
1/3 cup butter or coconut oil
1/3 cup coconut sugar
Instructions
Preheat your oven to 375ºF. Line a muffin tin with liners or grease a tin with coconut oil or butter.
In a medium sized bowl, whisk together flours, baking powder, salt and coconut sugar. Add in egg, oil, and milk. Stir with a spatula to combine. Add in the chopped and peeled peaches and stir to combine.
In a separate bowl, combine oats, coconut sugar, and butter. Using your fingers, pinch together butter to break it into small pieces making the mixture into a crumble.
Using a retractable scoop or a ladle, divide muffin mixture between muffin cups. Top with 2 tablespoons of crumble mixture.
Bake for 20-25 minutes or until golden brown and a toothpick comes out of the muffin clean.
Let cool for 3-5 minutes and then remove from tin and allow to cool completely.
https://fuelgoodness.com/peach-crumble-muffins/