This recipe for Strawberry Shortcake was definitely inspired by my childhood. Every summer, we would go up to my cottage for Canada Day weekend (the first long weekend of the Summer).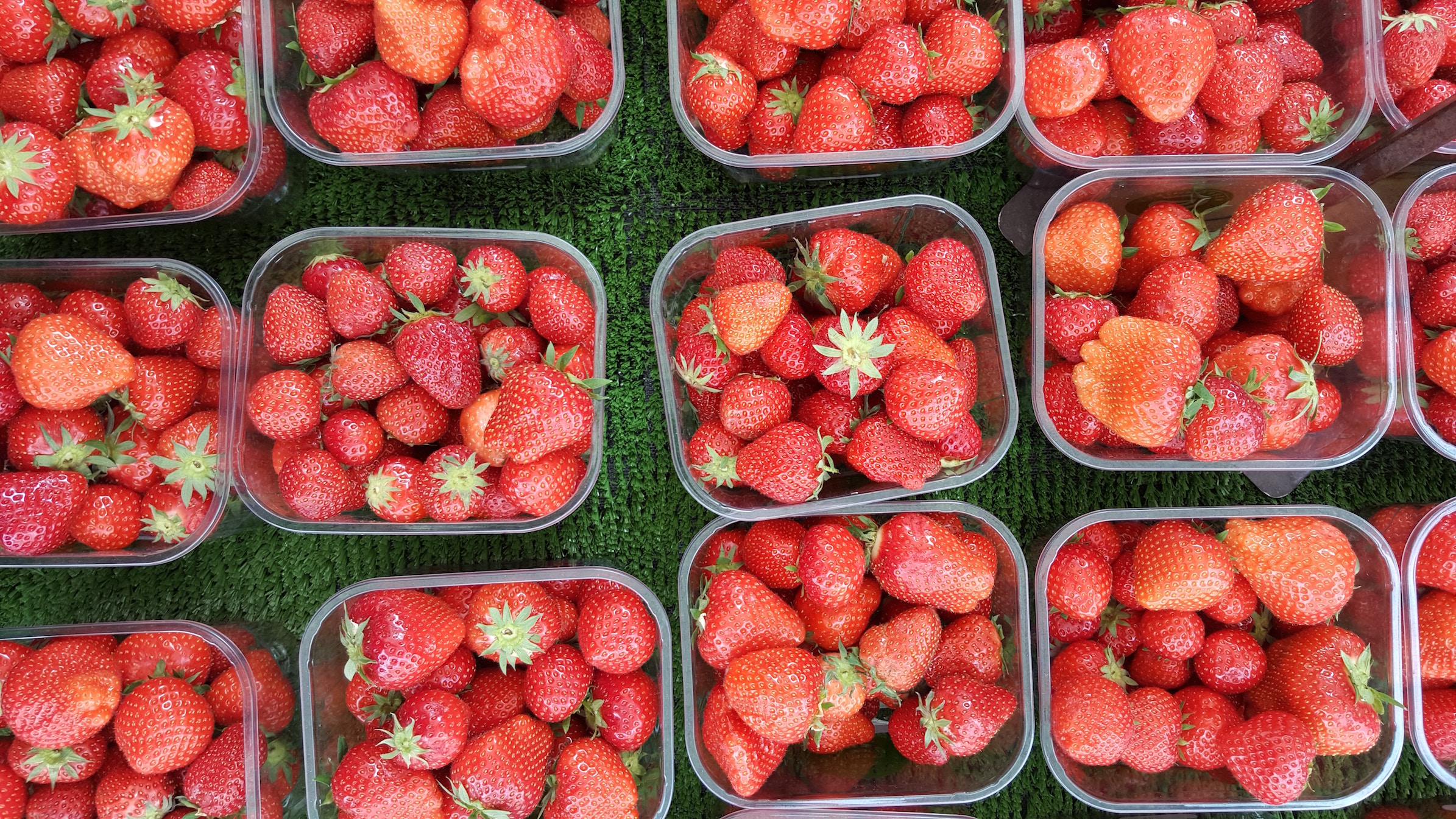 We'd head out on Saturday or Sunday morning in our mini van and head to the strawberry farm. My mum, brother, cousins, and sometimes others would trot off down the rows of strawberry bushes. We'd pick quarts and quarts of ripe berries. I always tried to pick the biggest berries because they always filled the quart faster, whereas my mum would pick the itty-bitty berries because they were more flavourful and made better jam! I'm sure we ate more berries than paid for and took home! Isn't that part of the fun? Stuffing your face with sun-ki
ssed, warm, juicy, sweet berries. I guess it's the price you pay for taking kids berry picking!
---
We'd take our quarts and quarts of berries back to the cottage and w
e'd cook up all the strawberry things. Pies, jam, puddings, and you guessed it… Strawberry Shortcake.
---
Now, when my mum makes Strawberry Shortcake, she starts by making tea biscuits, then makes a strawberry compote, and whips the whipping cream. She sliced the tea biscuit in half, tops the bottom half of the biscuit with strawberry compote (cooked down strawberries), then tops the compote with whipped cream, pops the top of the tea biscuit on top and tops that with sliced strawberries and another dollop of cream. It is decadent to say the least! But it's a once a year type of dessert.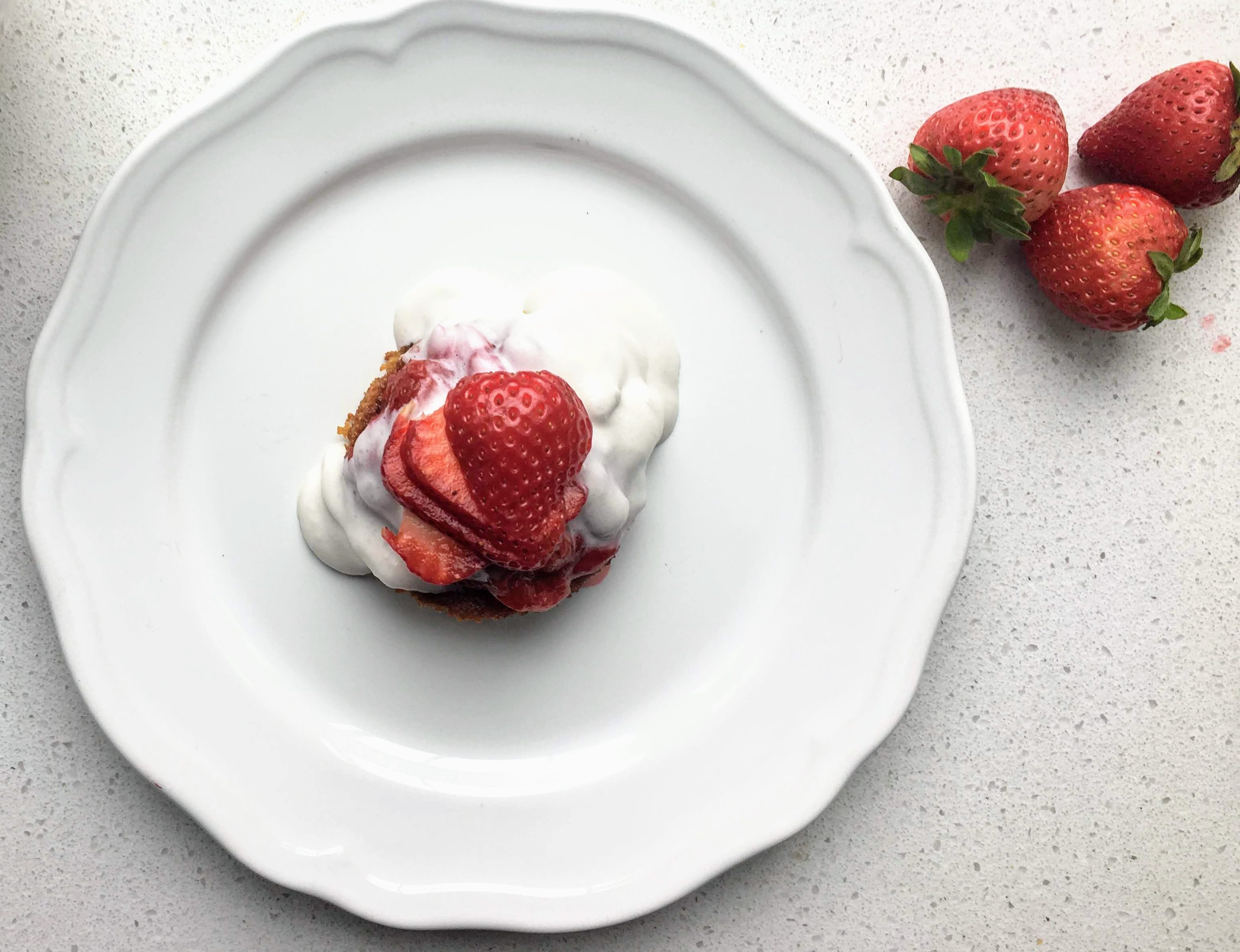 The recipe I've created is a little bit less 'indulgent' but just as decadent and delicious. This recipe is gluten-free, grain-free, dairy-free, and refined sugar free. It's also a bit simpler to concoct. We start with a basic scratch cake, then top the cakes with strawberry compote, sliced strawberries, and whipped coconut cream. Is your mouth watering yet?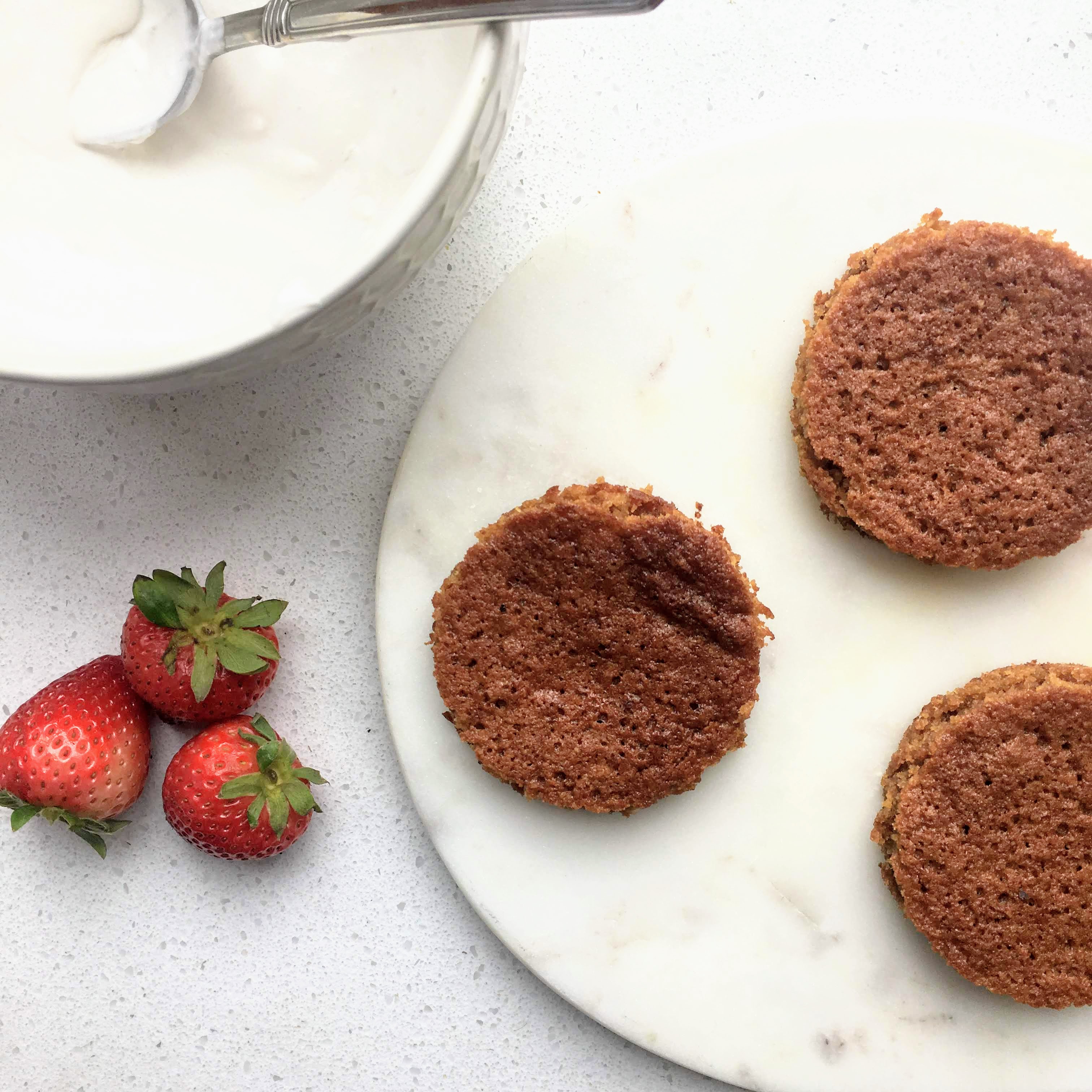 Let's get to the recipe!
Ingredients
Scratch Cake

3 eggs
3/4 cup coconut sugar
1/4 cup coconut oil/butter/ghee, melted
1 1/2 cups almond flour
3 teaspoons baking soda
Strawberry Compote

2 cups strawberries, stemmed and quartered
3 tablespoons maple syrup
2 tablespoons water
Coconut Whipped Cream

1 can full fat coconut milk, refrigerated overnight
1 teaspoon vanilla
1 teaspoon coconut sugar/maple syrup
For Serving

1 cup strawberries, sliced
Instructions
Start by making the cake:

Preheat oven to 350ºF and line a 8x8 or 10x6 pan with parchment paper.
In a medium sized bowl, whisk together eggs and coconut sugar until frothy. Add melted oil/butter/ghee and continue to whisk together. Add almond flour and baking soda. Using a rubber spatula stir to combine.
Pour batter into prepared pan and level the cake with a rubber spatula. Bake for 30 minutes or until a toothpick inserted into the centre of the cake comes out clean.
Remove from pan and let cool completely on a cooling rack.

For the Compote:

In a small saucepan, combine chopped strawberries, maple syrup, and water. Coo for 10-15 minutes over a simmer, until berries are cooked down. Turn stove off and allow to cool.

For Coconut Whipped Cream:

Using an electric mixer (either handheld or stand mixer) combine cold coconut cream, vanilla, and sugar/maple syrup in a bowl. Mix on medium speed for 2-3 minutes or until fluffy.

To assemble:

Either slice your cake into squares or use a cookie cutter to cut out rounds (or any shape). Place your cake cut-out on a plate. Spoon the compote onto the cake. Top the compote with a dollop of whipped coconut cream and garnish with fresh strawberry slices.
https://fuelgoodness.com/strawberry-shortcake/
What is your favourite way to use strawberries?